Tag

your time,
get the

insight

.


An open source time-tracker with an interactive user experience and powerful reporting.

 Demo  Sign up

Get a taste with the demo. Then try it 14 days for free, no card required.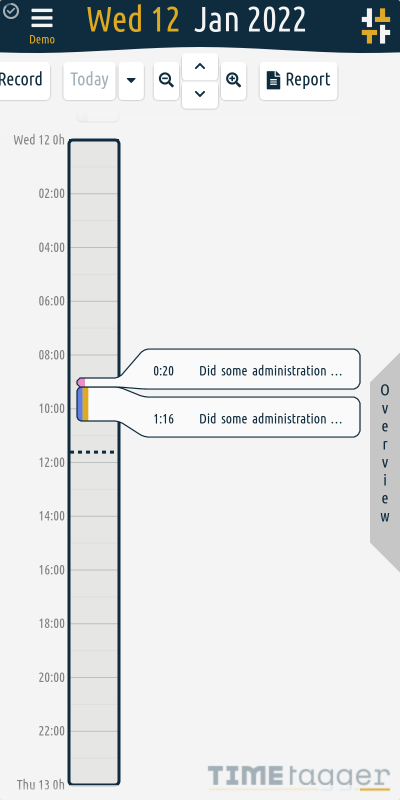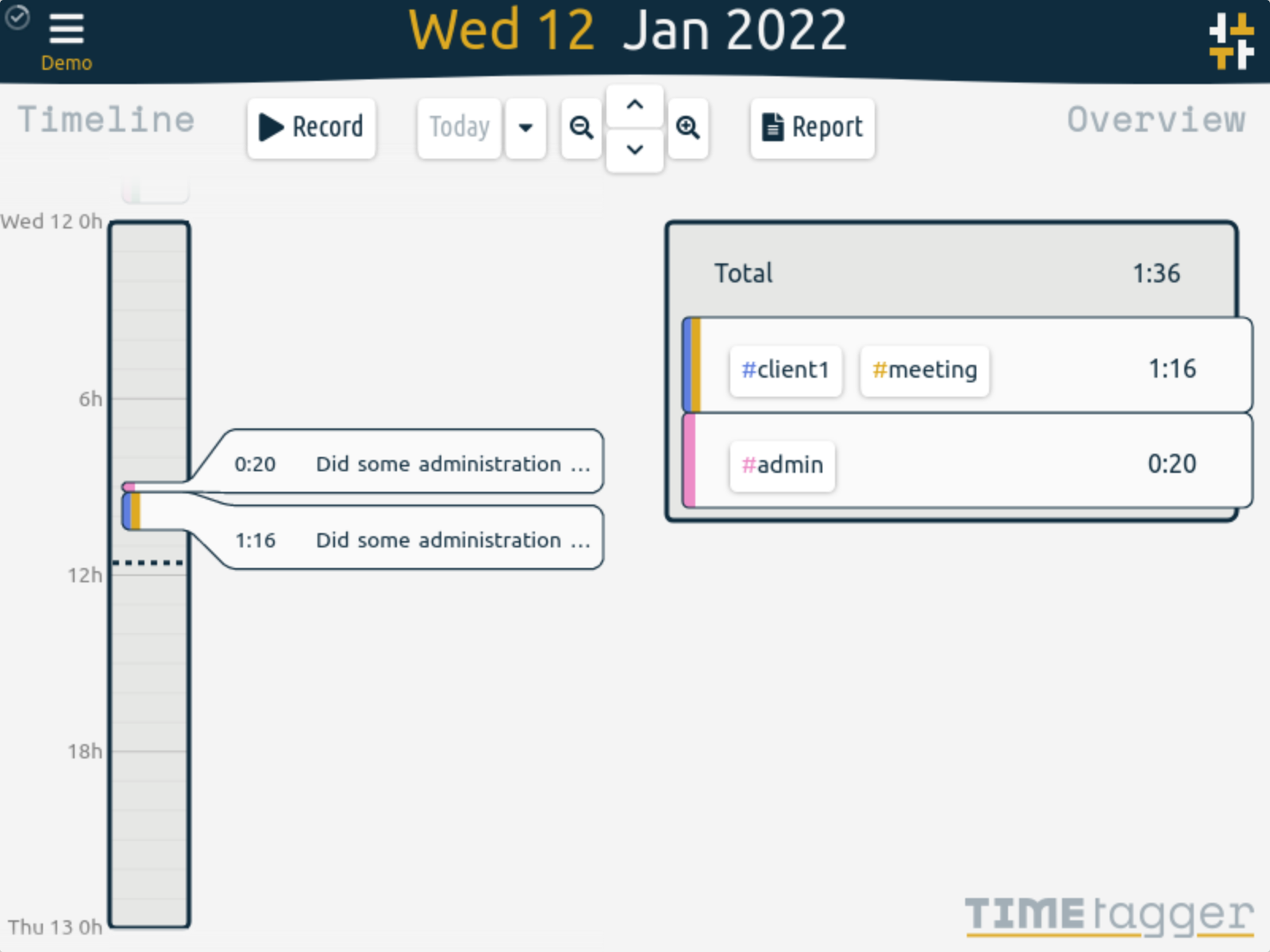 An intuitive tracker for individuals and freelancers
TimeTagger does one thing, and does it well. It's based on an interactive timeline to get quick insight into your spent time. The use of tags rather than projects enables lean an versatile workflows.
Powerful reporting via CSV and PDF
Hit the report button to get a detailed overview. Produce PDF reports to bill clients. Export data to a spreadsheet (e.g. Excel) for further processing.
Set your targets
Become more productive by setting targets, tracking your progress, and hitting your goals! The integrated Pomodoro method helps you stay focused.
Take it anywhere
TimeTagger gives you the same smooth time-tracking experience on any device, no matter the screen size. It can be used off-line, and your data gets automatically synced.
Privacy matters
Notice how there's no cookie banner on this site? This site does not track you. Nor does it make use of 3d party services that do.
What others say about TimeTagger
Really awesome product.

Pretty impressed with the functionality. Great job!

Thanks for not using cookies to track me.

I just found this app and am really amazed.

This is incredible and exactly what I've been wanting!

This is exactly what I need to keep me on track!

Incredible design! Wow!

Dude, this looks pretty awesome.

This is exactly what I have been looking for.

To write or read more reviews, see e.g. TrustPilot and AppSumo.
Pricing
If you want to purchase multiple subscriptions for your team, contact me for details!
You can sign up and try TimeTagger for 14 days. After the trial period, you'll have to purchase a subscription to continue using TimeTagger. The reference prices are in Euros, but in most countries you pay in your local currency. The basic plan is billed annually by default - monthly billing costs €1 more to cover transaction costs. Payment methods include credit card, PayPal, Apple Pay, and iDEAL. See the support page for information about payments, VAT, and more.
Open source
Like most software today, TimeTagger makes heavy use of existing open source software. I pledge to contribute at least 10% of profits from TimeTagger to the open source projects that power it.
TimeTagger itself is also open source, and available at

Github. This results in a transparent development process. And if you want, you can run TimeTagger yourself!